Plastics – technology, equipment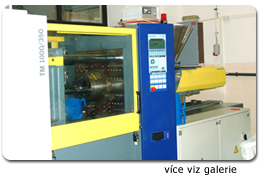 Manufacturing equipment
Our company is equipped with modern technology, mainly injectionpress Battenfield and from South Korean company Woojin-Selex ( Injection systems for plastic s.r.o. Stenberk ). Average age of injectionpresses is 5 years. Various accessories for processing different materials are also available. Technological equipment enables the manufacture of press works from 5 to 200 gr per piece.
Manufacturing Technology
Manufacturing technology is based on injection of melted material into metal forms mainly using hot injectors. Color mixing is guaranteed by total work up over endless screw extruders. Thin wall moldings show to our clients high degree of rigidity and if natural product is used high transparency of finished products.
Materials used
Raw materials for manufacture
Most often used raw materials are polyethilene, propylene, krasteny in various quality grades. Selection of raw materials depends on the final product, likewise we decide the selection and adjustment of forms in close cooperation with our client.